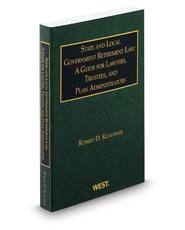 A Guide for Lawyers, Trustees, and Plan Administrators
By Robert D. Klausner

Announcing the release of the first book dedicated solely to the issues of public employee retirement systems - State and Local Government Retirement Law and Practice: A Guide for Lawyers, Trustees and Plan Administrators, authored by Robert D. Klausner, Esquire, is the only comprehensive source for constitutional and practical issues of public employee pension plan management, design and administration. The book addresses such diverse subjects as disability, investment, plan funding, and deferred retirement option plans (DROP). It includes substantial citations to state and federal court decisions as well as useful forms and model contracts.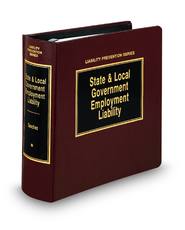 State and Local Government Employment Liability (Liability Prevention Series)
By Robert D. Klausner & John E. Sanchez

This title provides you with information needed to deal with the many employment liability issues that can arise in the public sector. Discusses statutes, rules, and regulations regarding hiring and firing of employees, the Americans with Disabilities Act and Family Medical Leave Act, comparable worth, and other employment issues.