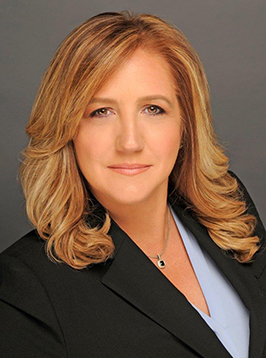 Education
University of Miami School of Law, J.D., 1991
University of Miami, B.A., 1988
Admissions
Florida, 1992
United States District Court, Southern District of Florida, 1999
Memberships
Dade County Bar Association
Cuban American Bar Association
The League of Prosecutors
National Member of the Order of the Barristers
Phi Alpha Delta, Alumni Division
Ms. Blanca Torrents Greenwood has been practicing law for over 30 years. She joined the law firm of Klausner, Kaufman, Jensen and Levinson after having served as General Counsel and Executive Director of the Dade County Police Benevolent Association and having her own practice focusing on labor and employment matters.
Ms. Greenwood started her career as an Assistant State Attorney, where she prosecuted cases at all levels and served as the Deputy Chief of County Court, Crimes Division, helping to train and mentor all newly hired Assistant State Attorneys. She later served as General Counsel and Executive Director of the Dade County Police Benevolent Association (PBA), a labor organization representing law enforcement officers in all matters related to their employment, including collective bargaining and arbitrations. She also served as Associate General Counsel for the Florida Police Benevolent Association where she was intricately involved with legislation and pension issues throughout the state. Ms. Greenwood was advisor to the President and Board of Directors, providing legal opinions on policies, official messaging and position statements. She diligently represented the PBA in collective bargaining; in government, business and civic meetings and dealings; served as spokesperson for the Association; co-hosted a weekly radio show, covering a broad range of topics and issues facing the South Florida Community, where guests included government officials, corporate business partners, and award winning entertainers; and supervised, trained and guided a staff of twenty employees, seven in-house attorneys and numerous associate law firms.
Ms. Greenwood has lectured in numerous venues regarding various issues including collective bargaining, employee rights, internal investigations, FMLA, EEOC, DOL and DOAH hearings. She has served as an instructor for the Southern Police Institute and a panelist for the Harvard Law School Police Union Leadership Symposium. Ms. Greenwood was appointed to serve on the Use of Force Advisory Board for the Criminal Justice Standards and Training Commission and on the Florida Department of Law Enforcement's Select Committee on Firearms Qualification Standards. Having drafted numerous pieces of legislation which have been signed into law, she has also testified in front of several Committees, advocation for their passage. She has also appeared on radio and television repeatedly.
Ms. Greenwood is licensed to practice law in the State of Florida and the United States District Court for the Southern District of Florida. As a Dean's List graduate from the University of Miami, she received her Bachelor's Degree in psychology, with a minor in chemistry. Ms. Greenwood was a Dean's Honor Scholarship recipient and attended the University of Miami School of Law, where she received her Juris Doctorate degree in May 1991. She was selected for the Law School Honors Program and served as President of the Hispanic Law Students Association and Executive Board Member of the Phi Alpha Delta Law Organization. Ms. Greenwood was also the University of Miami School of Law Mock Trial Competition Champion and represented the University, placing Finalist, in national trial competitions. She was selected as a National Member of the Order of the Barristers for achieving excellence and high honor in court advocacy.
Ms. Greenwood has been married to her husband, Kevin R. Greenwood since 1991. Kevin retired as a Sergeant from the Miami-Dade Police Department after serving nearly thirty years. They have three children; Dr. Jessica M Greenwood, MD, Matthew Greenwood and Michael Greenwood.