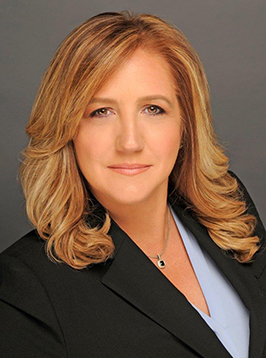 Ms. Blanca Torrents Greenwood currently runs her own legal practice, focusing on labor and employment matters; policy review, analysis and revisions; government relations; strategic messaging; image and crisis management; and risk analysis and prevention. She is also the Associate General Counsel for the Florida Police Benevolent Association, a non-profit labor organization, where she serves as an advisor to the President on all aspects related to the Association's mission, develops and maintains business relationships with local government and business partners, and represents clients in arbitrations and employment matters.
Her vision and dedication as the former Executive Director for the Dade County Police Benevolent Association (PBA), a labor organization representing law enforcement and support personnel in all employment matters, including collective bargaining and arbitrations, helped make the PBA the most successful labor organization in the state of Florida. Ms. Greenwood served as the advisor to the President and Board of Directors, providing legal opinions on policies, direction and all official messaging and position statements. She diligently represented the PBA in collective bargaining; in government, business and civic meetings and dealings; served as spokesperson for the Association; co-hosted a weekly radio show, covering a broad range of topics and issues facing the South Florida Community, where guests included government officials, corporate business partners, and award winning entertainers; and supervised, trained and guided a staff of twenty employees, seven in-house attorneys and numerous associate law firms.
Ms. Greenwood has been invited to lecture in numerous venues on employee rights and internal investigations and is an instructor for the Southern Police Institute. She has repeatedly attended the Harvard Law School Police Union Leadership Symposium where she has also served as a panelist. Ms. Greenwood has served on the Use of Force Advisory Board for the Criminal Justice Standards and Training Commission and on the Florida Department of Law Enforcement's Select Committee on Firearms Qualification Standards, where she played a crucial role in helping to develop many of the criteria currently used today by law enforcement departments across the nation. She has appeared on radio and television and, having drafted and enacted numerous pieces of legislation which have been signed into current law, she continues to be an advocate for the passage of legislation benefitting her clients.
Ms. Greenwood is licensed to practice law in the State of Florida and the United States District Court for the Southern District of Florida. As a Dean's List graduate from the University of Miami, she received her Bachelor's Degree in psychology, with a minor in chemistry. Ms. Greenwood attended the University of Miami, School of Law, where she received her Juris Doctorate degree in May 1991 and was selected for the Law School Honors Program. She served as the President of the Hispanic Law Students Association and was on the Executive Board of the Phi Alpha Delta Law Organization. Ms. Greenwood was the University of Miami, School of Law Mock Trial Competition Champion and represented the University in national trial competitions. She was selected as a National Member of the Order of the Barristers for achieving excellence and high honor in court advocacy.